Contact Information
Spenta Digital Media Pvt. Ltd.
10th Floor, Sun Paradise Business Plaza,
Opposite Kamala Mills,
Senapati Bapat Marg, Lower Parel (W),
Mumbai - 400 013
India
We're Available 24/ 7. Call Now.
Find us here
Top 5 Digital Advertising Tips for Your Marketing Strategy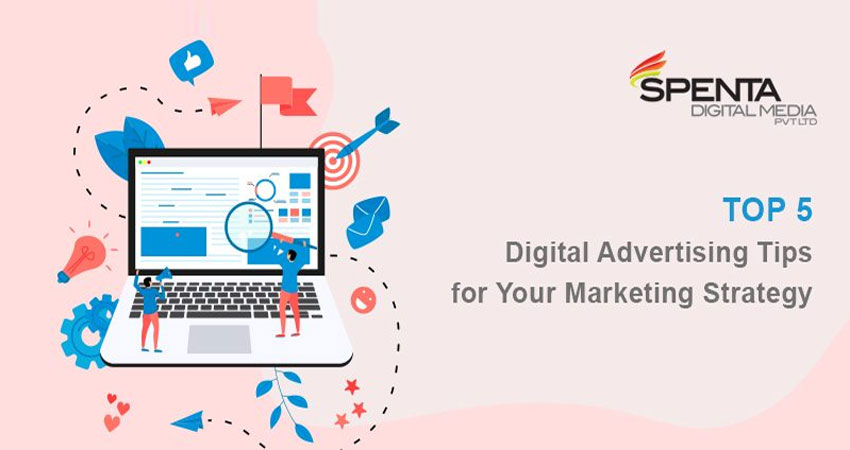 Want to get your brand noticed in the online space? Use the below 5 advertising hacks as a catalyst to get more eyeballs on your brand.
Build a Strong Network
Surround yourself with various marketing personalities. Attend conferences and industry meet-ups in your neighborhood to cultivate relationships with other digital professionals and to improve your skillset. Networking will open new doors to opportunities you might not have otherwise found.
Integrate Various Marketing Channels
If you want to reach your audience, ensure your ads are integrated across various marketing platforms. Each marketing channel has a different vibe and feel, so you and your digital marketing team in Mumbai need to make efforts to voice your brand consistently across all platforms.
Spend Wisely
It's important to know the value each marketing channel offers. Some platforms that work really well for one company, might offer some different results for another. The results are all very specific to your brand, hence you need to plan your budget accordingly.
Connect Social Media Metrics With ROI
In order to see which strategy is working best for your brand, you and your digital marketing team in Mumbai need to start measuring the results. You need to look at what is promoting engagement with your company, versus what is actually driving conversions. Check the actual Return on Investment (ROI) and you will be able to plan your next strategy as per the current results.
Produce Evergreen and Trending Content
If you want to attract the attention of your audience – ensure your content marketing team in Mumbai produces both evergreen and trending content. Keep the content simple and conversational. Moreover, ensure you create a unique voice that suits your audience and matches your brand.
The digital space changes practically every day. As technology and techniques advance, the marketplace will inevitably fluctuate. Hence ensure you don't get stuck with something old while ignoring the growing and changing market.
Spenta Digital is one such online advertising company in Mumbai that offers full-fledged digital services. If you have any interesting projects, big or small, get in touch with the team at the following address:
Spenta Digital Media Pvt. Ltd. Peninsula Spenta, 2nd Floor, Mathuradas Mills Compound,
Near Benefice Business House, N. M. Joshi Marg, Lower Parel (W), Mumbai – 400 013
India.
Contact No: +91-22-2482 3030.